Association of University Legal Practitioners (AULP)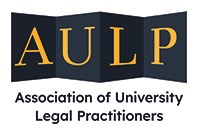 AULP shares knowledge and experience of the legal dimension of problems common to Higher Education Institutions and possible solutions thereto, and to promote the technical competence of those members of staff who, by virtue of their professional legal qualifications, normally as solicitor or barrister, are charged by the Higher Education Institutions to which they belong with the provision of in-house technical legal services.
AULP brings together nearly 350 of the Higher Education Sector's:
Solicitors

Barristers
FILEX qualified lawyers
Objectives
To ensure the sector complies with all applicable laws and regulations
To identify, reduce and manage risk across all areas of the sector
We are recruiting
We are looking for a skilled paralegal or legal assistant who can support our association as we launch our new website and discussion boards. Our new website will be the hub for our members, allowing them to share their knowledge and expertise with peers to solve current issues, while also drawing on existing knowledge and resources to support them in their roles.
To apply, complete the application form and email it to recruitment@aulp.ac.uk.
Closing date: Thursday 15th September 2022 at 5pm
Interviews: Week commencing 26th September 2022, via Teams